[ Image dupliquée de Elisabeth II, impossible à supprimer !
La Reine d'Angleterre ne veut pas quitter son trône, avec son "coucou" à un moustachu qu'elle salue deux fois ! 
Bug informatique ou blague de WordPress, she resists ! ]
________________________________________________________________________
L'Angleterre remplace son "Union Flag"
par un "false flag",

un "casus belli" européen.

Tranquille, la Grande-Bretagne se rachète une conduite de salope en déclarant la guerre à la Russie, à l'abri sur son île.
C'est un cadeau "royal" de sa Royale Majesté, la Reine d'Angleterre qui offre à l'OTAN un trophée de chasse,
– l'Oscar anglais "d'Autant en emporte le vent !", le vent nucléaire.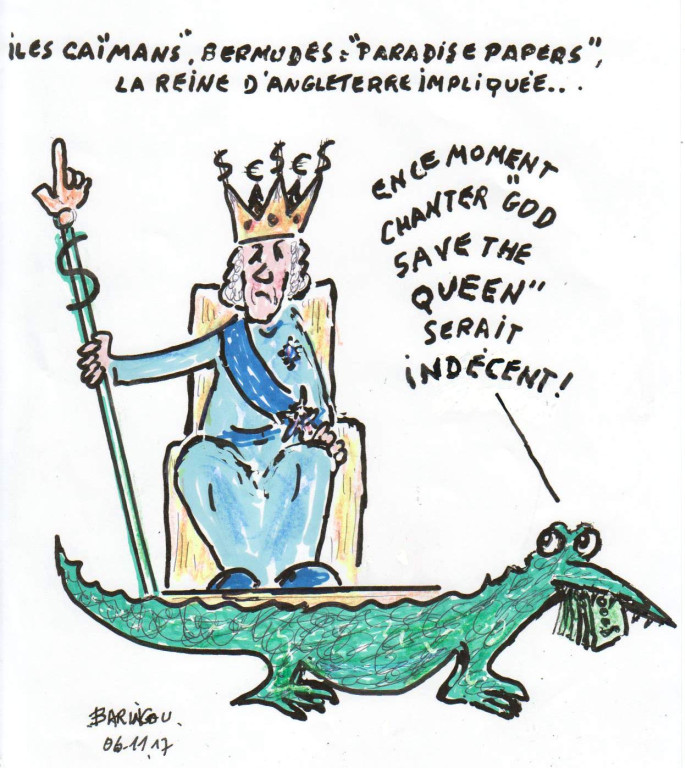 En Europe, l'OTAN s'est déjà positionné tout autour des frontières de la Russie
prêt à engager une Troisième Guerre Mondiale

qui sera NUCLEAIRE, "micro-NUCLEAIRE", qu'y disent,

pass'que les USA ont promis de n'utiliser que des missiles à "micro-charge nucléaire", qu'y disent tous ces cons.
Et "on" qu'est toujours un con, y sait bien que les promesses n'engagent que les cons qui les croient.
– "Ne craignez rien, braves gens, (cons d'Européens), ce ne seront pas des bombes atomiques, de vraies bombes,
mais simplement des "petits" missiles à micro-charge nucléaire."
Mais l'suppositoire,
qu'y soit "micro" ou "MACRO-n",

y t'encule quand même  !
Et ça fait MAL de s'prendre un missile dans l'Q, avec ou sans charge "micro/MACRO-n",
s'y l'est nucléaire, le microbe radioactif.
– "True "Fake New" par un vrai Trouduc !"
Tout s'achète et tout se jette au "Royaume dés-Unis" amis contre l'Eurasie !
Faut surtout pas que l'Europe devienne puissante et s'unisse à la Russie !
Surtout pas !
Jamais.
Economiquement, ce serait une "gross catastroôf", avec l'accent germanique, s'y vous plaît,
Et pour l'Allemagne qui tire l'Europe vers la guerre et est dirigée par les USA.
"L'Union Jack", avec son drapeau, l'"Union Flag" du Royaume-Uni, nous la joue "false flag" pour faire passer son suppositoire qu'est resté bloqué au fond du trou du Trouduc.
Et toi, Ducon, tu gobes tout !
Le lavement et la médecine du bon Docteur DIAFOIRUS.
– T'as mal au foie ?
T'inquiète !
Quand tu recevras sur la gueule un missile avec sa micro-charge nucléaire,
tu seras plus jaune du tout et t'auras plus aucun risque d'avoir la jaunisse.
Tu s'ras de toutes les couleurs !,
des couleurs de la mort radio-active

explosé dans un joli champignon nucléaire qui s'ra trop "micro/mignon" !
Faut bien que l'OTAN teste ses nouveaux jouets, non ?
– Sinon, à quoi ça sert de s'armer si on peut même plus s'servir de ses armes ?
Y'a que les armes anciennes qu'on collectionne.
Pas les nouvelles.
Les nouvelles, on les teste !
Et on les teste sur la population civile de l'Europe.
Rassurez-vous, tout est prévu de longue date.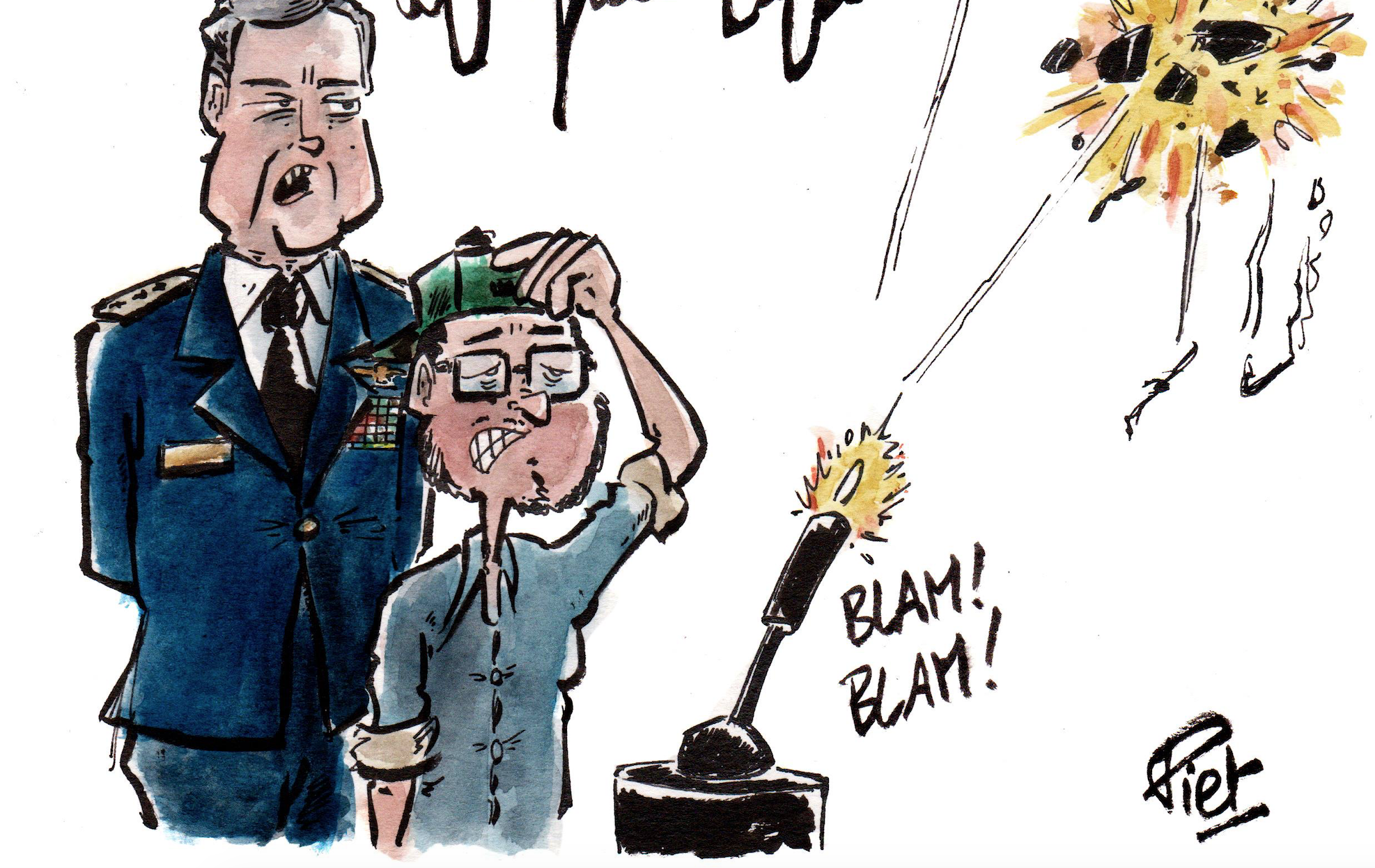 Abattage des blaireaux en Angleterre !
– Pourquoi tu crois qu'en Belgique,
– une fois -,
y distribue des pilules d'iode gratuites, en ce moment,
– deux fois -,
– deux fois plutôt qu'une,
– crise de foie -, à leur population ?
A cause du nuage de Tchernobyl ?
_________________________________________________________________
http://www.lesoir.be/143846/article/2018-03-06/nucleaire-les-pastilles-diode-pour-qui-et-pour-quoi-videos
Nucléaire: les pastilles d'iode pour qui et pour quoi? (vidéos)
Mis en ligne le 6/03/2018 à 14:31P
Par P.LA avec Belga
4,6 millions de boîtes d'iode ont été commandées. Chaque belge peut se procurer ces médicaments gratuitement.
La distribution de comprimés d'iode a été actualisée dans le nouveau plan d'urgence nucléaire entré en vigueur mardi, ont annoncé les ministres de l'Intérieur, Jan Jambon et de la Santé publique, Maggie De Block.
[…]]
_________________________________________________________________________
Les Pays-Bas aussi, ils se sont mis à distribuer les jolies petites pilules bleues, couleur de l'iode de la mer, qui permettent,
si t'es pas mort de suite,

de pas mourir trop lentement d'une irradiation nucléaire,

moins longuement que si t'en avais pas pris ou qu't'avais été surpris au lit.
Et si t'es un con qui croit au "dieu-hasard" et qui m'répond :
– " c'est par hasard qu'y distribuent des pilules d'iode en Belgique et aux Pays-Bas !",
c'est qu't'es encore plus con qu'un Belge,
– trois fois.
"Va chier, Ducon, pass'que ça va chier très vite en Europe !"
– Dépêche-toi tant qu'tu peux encore t'asseoir sur une lunette de WC avec un toit sur la tête.
Sinon c'est toi qu'auras la tête dans l'trou d'la cuvette des W.C. !
A vomir tes tripes à cause de la radio-activité.
Rappelle-toi qu'en France, y'a que vos élus politiques qu'auront le droit, avec vos militaires, de pouvoir être "LOGES" dans des abris atomiques.
Alors, si tu veux pas être atomisé-e, y s'rait temps qu'tu penses à devenir "Président de la République", député ou sénateur,
sinon soldat, militaire quoi !
Faut t'engager, mon pote, pour pas mourir comme un chien enragé, la bave aux commissures des lèvres.
Car les soldats, c'est eux qu'y seront les mieux protégés.
Un soldat, aujourd'hui, y s'bat plus.
Il est assis devant un écran et, avec un joystick, y joue à tuer des civils.
Pourquoi des civils ?
Pass'que les z'autres soldats, y sont pas fous !
Comme lui, y sont dans un souterrain, genre bunker, à l'abri des missiles avec leurs micro-charges nucléaires.
Et ce s'ra à qui tuera le plus de Russes ou de Français dans leur nouveau jeu qui s'appelle :
la Troisième Guerre Mondiale

la Guerre Nucléaire en Europe.
C'est pour ça qu'y s'en foutent du peuple de France et des z'autres peuples d'Europe !
Y savent qu'y va y avoir la guerre, une guerre nucléaire.
– T'as voté Bildeberg ?
T'auras le programme Bildeberg.
Fin de l'Europe et de ses habitants, qu'importe leur race, car eux, y sont pas racistes.
Y z'aiment pas l'humanité.
Y z'aiment que leur pognon !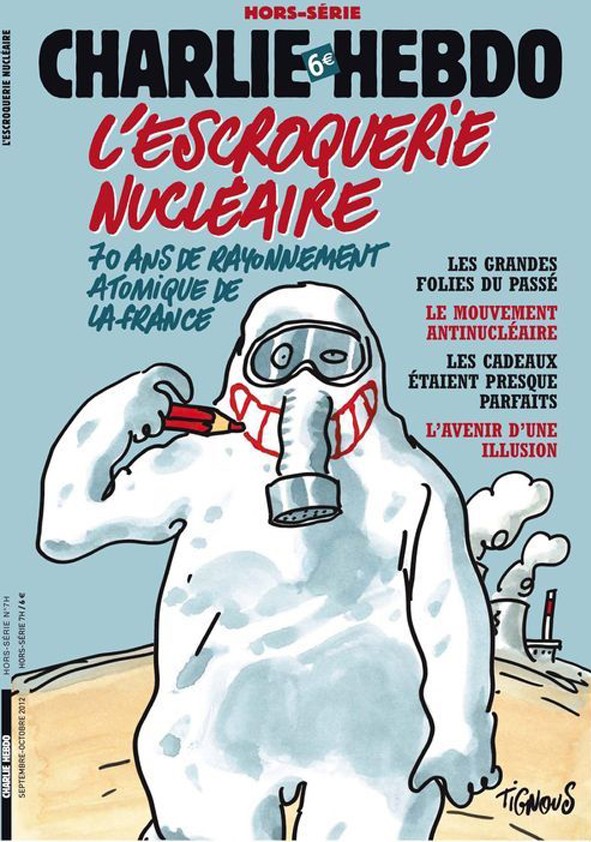 – Gisements à ciel ouvert de gaz de schiste !
L'europe, ce sera "Bienvenue sur le nouveau continent l'"Eurafrique" !"
Ou c'qu'y en restera.
Le problème du chômage sera DEFINITIVEMENT réglé.
Y'aura plus de chômeurs puisqu'y aura plus d'habitants, ou si peu !,
que des drôles de zèbres, les "z-élus",

vos anciens élus politiques LREM.
Pourquoi les anciens élus politiques, seulement s'y sont LREM,
pourront-ils repeupler la "planète morte", l'Europe ?
Tu penses bien que ceux qui gouvernent actuellement la France ,
y vont pas ouvrir les abris atomiques à leurs opposants politiques, Ducon ?,.
– Qu'y l'est con !
Y s'ront trop contents de s'en débarrasser, de tous leurs adversaires politiques,
même les petits hommes verts,
surtout les petits hommes verts qui sont contre le "nucléaire".
Depuis le temps qu'on vous le dit !
Y f'ront tout pour provoquer une Troisième Guerre Mondiale en Europe, afin de barrer la route aux "votes populistes", comme y disent.
La prochaine étape, ce s'ra la suspension des élections à cause de la guerre en Europe.
Eux, y savent déjà qu'y sont élus à vie,
les  présidents des pays européens sous mandat PROTECTEUR de l'OTAN.
Ils ont trompé leurs peuples
grâce à un ennemi qui va leur permettre de se  la jouer "Etat d'urgence"
donc "EXCEPTION d'ETAT",
et de se la péter "sauveurs de la France et de l'Europe", en faisant tout péter.
Et y'a pas un con en France pour rouspéter !
Bande de cons.
Là, l'ennemi est tout désigné et clairement identifié, hein ?!
ON PEUT LE NOMMER, çui-là.
Tu le connais !
C'est la Russie,
pays qu'a tué le plus-se de Français en France, qu'y disent,
ou tué  le plus-se d'Anglais en Angleterre, surtout des Russes !,

pass'que Daech et les Etats Islamiques, ça compte pas, hein ?:. piss'qu'y faut pas prononcer les mots qui fâchent comme "Islam".
Donc deuxième étape,
les amis de mes amis étant mes amis,

les amis de mes ennemis deviennent mes ennemis !
Par conséquent tous ceux qui sont et s'ront russophiles,
pire !, "islamophobes", comme y disent,

y devront partir, quitter la France,

ou alors y partiront à vie en prison.
En France et en Europe, y restera plus que les Muzzs
pass'que vos dirigeants croient pouvoir les "Muzz-eler" plus facilement les Muzzs
que les "Crétins" d'avant qui habitaient ce pays appelé autrefois "Douce France".
Point-barre.
Et y z'auront pas de pitié pour les amis de la Russie, les ennemis  de la Russie !
Par contre, tu pourras toujours te convertir à la religion qu'a tué le plus d'êtres humains sur terre depuis qu'elle existe :
– 270 millions de victimes "seulement".
Qui dit mieux ?
J'te donne pas l'nom, hein ?, de cette religion.
C'est DEJA interdit en France.
Ce serait raciste de donner le nom de cette religion.
Mais tuer des mécréants, c'est pas raciste, hein ?
Et y pourront continuer ainsi  à zigouiller "tranquillou" des Chrétiens,
de préférence russes, les Chrétiens, hein ?!

ou russophiles.
Dormez bien, braves gens !
L'OTAN veille sur vous.
"Big Brother" vous surveille davantage que n'importe quel autre terroriste.
Car vous êtes tous des terroristes en puissance, les Patriotes !, si vous aimez votre pays
et votre continent, l'Europe.
La surveillance sera active.
Mais plus pour longtemps.
Dans pas longtemps, vous serez tous terrés dans vos caves comme des rats.
Et estimez-vous heureux si vous avez une cave, rats des villes et rats des champs !
Alors vous envierez le sort des Syriens dans la Ghouta
pass'qu'au moins les bombardements syriens, y sont pas nucléaires.
Pas encore !
___________________________________________________________
http://fr.euronews.com/2018/03/13/afaire-skripal-les-hypotheses-d-un-ancien-espion-russe
Affaire Skripal : les "hypothèses" d'un ancien espion russe
Par Euronews
Dernière MAJ: 13/03/2018
[ Un ancien officier du service de renseignement de l'armée russe nous confie ses "hypothèses"
Tout comme Sergueï Skripal, l'espion empoisonné au Royaume-Uni, Vladimir Koshelev est un ancien officier du GRU, le service de renseignement de l'armée russe. Au micro d'Euronews, il émet ses propres hypothèses sur l'empoisonnement de l'agent double et l'usage d'une substance chimique de conception russe pour l'empoisonner.
"Nous ne devrions pas exclure l'hypothèse de l'implication d'un Etat dans toute cette histoire, mais quel Etat ? C'est la question, dit-il. Il est possible que les services spéciaux britanniques aient décidé de réutiliser leur ancien espion en mettant en scène son empoisonnement. D'un autre côté, l'implication de services spéciaux "amis" dans cette affaire est aussi possible. Ces services de renseignements supposés "amis" – et je souligne que cela est juste une hypothèse – pourraient appartenir à un pays ayant fait partie de l'Union soviétique où auraient pu se trouver des entrepôts abritant ces armes chimiques, l'Ukraine par exemple."
"Je n'exclue pas non plus la possibilité que ces agents "Novitchok" soient tombés entre les mains de criminels."
"Si M. Skripal avait réellement été menacé de mort, il aurait intégré un programme de protection des témoins, mais il vivait sans se cacher, il utilisait ses vrais nom et prénom, sa fille se déplaçait librement entre le Royaume-Uni et la Russie et inversement, et son fils aussi. Il n'y avait pas de menaces de ce point de vue, et tout d'un coup, cela est arrivé. Malheureusement, il y a eu et il y aura encore des traîtres, des traîtres à notre patrie qui ont fui aux Etats-Unis et en Israël aussi. Alors pourquoi sont-ils seulement empoisonnés et tués au Royaume-Uni ? Cela soulève certaines questions, pourquoi le Royaume-Uni ?", conclut l'ancien espion.]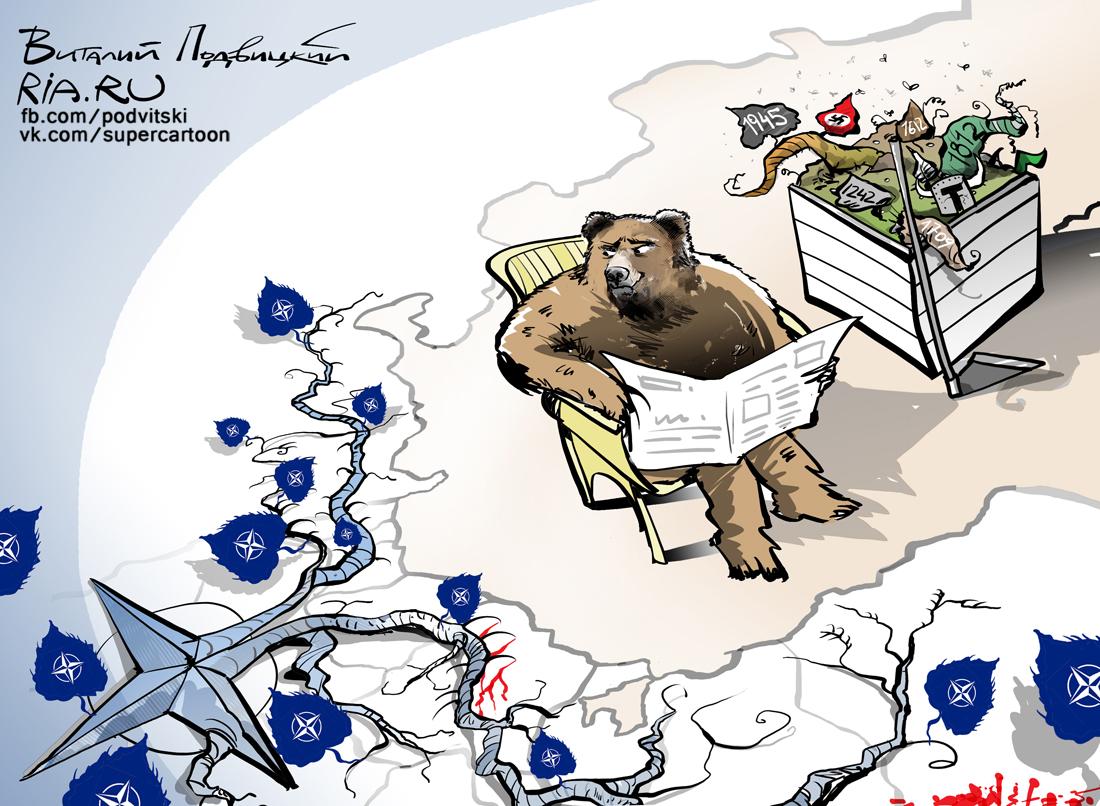 _______________________________________________________________________
Quel ami est tellement l'ami de l'OTAN qu'il peut tuer sous "false flag", sans problème et sans raison autre que de rendre service à ses Maîtres ?
Le seul que je connais, de tueur à gages, ami des amis des ennemis de l'Homme,
son nom s'écrit  en trois lettres et  en trois points,
un point, c'est tout, mon poing dans la gueule  :
– C. I. A., trois lettres, trois points.
D'ailleurs, pour preuve que cette hypothèse est fondée,  l'un des inventeurs du gaz neurotoxique "Novichok" avait fui aux U.S.A..
Il n'y a pas que la Russie qui détienne ou soit capable de recréer ce gaz neurotoxique !
Depuis le temps que son meilleur inventeur a fui à l'étranger.
Et dans quel pays qu'y vit l'inventeur, dis donc ?

Dis voir pour voir et savoir c'que tu sais ?

Fais voir !
Y s'est exilé aux U.S.A., dis donc, l'inventeur.
– Quel z'hasard !
Et quel bazar, c'te affaire de m..rde et et de meurtre d'un ex-espion russe
dans le Royaume "des-Unis" de "Sa Très Grincheuse Majesté".
Pour autre preuve,  je vous donne un lien sur Euronews, à cliquer dessus si tu m'crois pas :
Euronews qu'est pas Russia Today, RT, hein !?
_____
________________________________________________________
http://fr.euronews.com/2018/03/13/les-remords-d-un-des-createurs-des-novichok-
Par Euronews
Dernière MAJ: 13/03/2018
Vil Mirzayanov, scientifique russe exilé aux Etats-Unis, s'est exprimé publiquement à propos du poison utilisé contre l'ex-espion Sergueï Skripal
Ce scientifique russe, Vil Mirzayanov, a contribué à créer les Novichok, cette famille de gaz innervant utilisée contre l'ex-espion Sergueï Skripal. Il vit en exil aux Etats-Unis. C'est lui qui a révélé l'existence de ces substances développées sous l'Union soviétique.
[…]]
_______________________________________________________________________________
Donc cet inventeur russe, Vil MIRZAYANOV
qu'a révélé l'existence de ces gaz innervants

qui sont très énervants pour les puissances occidentales,

 lui, cet inventeur russe qu'a participé à la fabrication de ces gaz chimiques Novichok,

IL EST TOUJOURS VIVANT aux Etats-Unis.

What's wrong with the "Union Jack" ?
Moi, COLUCHE, j' propose de faire PAREIL en France, tout PAREIL qu'en Angleterre.
Quand un Chinois s'fait tuer sur notr'territoire, en France, à Paris,

ce sra d'la faute de la Chine,

na !
Qu'est-ce qui m'prouve que c'est pas le dirigeant chinois qu'est venu l'assassiner en France, le Chinois dissident, hein ?
D'ailleurs, j'reconnais l'atémi, le coup porté d'la main jaune par un nain jaune.
J'vous l'dis !
Arrêtez de critiquer la police française pour son inaction, les "Chinetoques" à Paris !
On sait maintenant qui rackette les Chinois en France, c'est :
Xi JINPING, votre leader chinois,

çui qui va être votre nouvel Empereur de Chine grâce à des élections démocratiques, siouplaît !
Il est trop fort !, Xi JINPING.
En cuisine politique, le cuistot chinois avec sa toque de chef, c'est lui qui remporte le prix du super-chef.
Méfiez-vous de la Chine, l'allié de l'ours russe !
Rappelez-vous que c'est "l'année du Chien" pour les Chinois et que le chien est un ami fidèle, lui,
N'oubliez JAMAIS que le Prophète de France le plus connu dans le monde,
le Catholique français, NOSTRADAMUS, né dans une famille de Juifs convertis au catholicisme,
a TOUJOURS prédit la VICTOIRE de "l'Ours Russe", de la Russie, contre ses ennemis
de même qu'il a prédit  la VICTOIRE du Christianisme contre ses ennemis, "les Sarrasins", après l'effondrement des religions "institutionnelles".
Un homme politique qui marche contre le sens de l'Histoire a déjà perdu la guerre,